Designed with the operator in mind, for simple, safe, gas-free drill and tapping ¾" – 2 ½" diameter holes on cast iron or steel mains from 3″- 48″ diameter operating up to 60psig.
Total Safety with Sensible Economics
The System-One tapping machines are in daily use by numerous utilities and contractors.
The machine inserts plugs, tees, cameras, and gasbags.
ALH System-One Enhanced Package #46-TP100EIR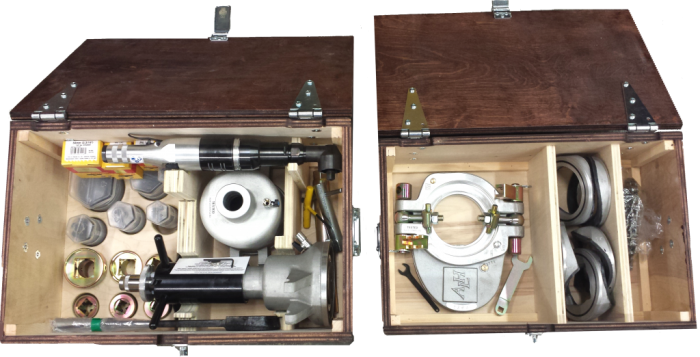 Can your tapping machine do all this?
Drill and Tap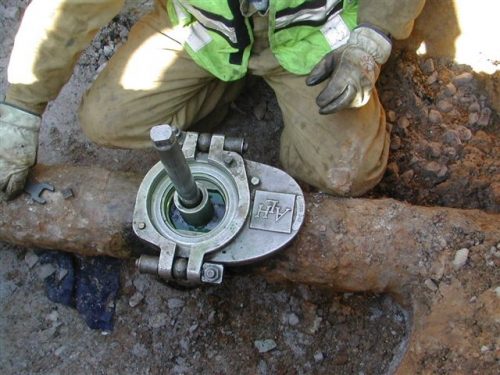 Plug Insertion/Extraction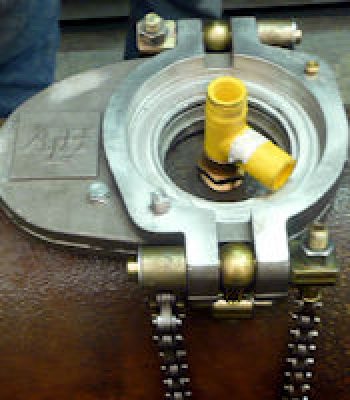 Metallic & PE Tee Insertion/Extraction
Sight Glass Inspection
By Pass Attachment
High Speed Taps & Holesaws 3/4" - 2 1/2"
Saddles to Fit CI & Steel mains
By-Pass Assembly and Bagging Off System for Gas Flow Stopping
Camera Entry
An Escape from Escaping Gas
Driven by the need to protect the environment and the ever-present requirement to improve safety standards in the industry, ALH offers an effective new technology already adopted by many US Gas Utilities. System-One is designed for the relatively low pressures used in gas distribution. The equipment is compact and light, the procedures simple and the economics viable. Gas-Free* operations at both low and medium pressure are now a reality, without exposure to the risks associated with open-hole work.
Today, much low and some medium pressure distribution maintenance is still carried out while gas escapes from open holes cut in the pipe. This practice contradicts worldwide trends were increasing the levels of safety and environmental concerns have become important issues. Acceptance of the status quo is the result of deep-set traditions, created before there was a viable alternative.
ALH System-One Drill Head
The ¾" to 2½" Drill Head performs all the functions of a conventional drilling and tapping machine while preventing the uncontrolled escape of gas at all times. Two large diameter internal drive bearings ensure unequalled accuracy of tapping for leak free threads.
The Drill Head locks into a recess on the Control Valve ensuring automatic alignment.
In the raised position, the drill shaft is held in an internal Locksquare to prevent accidental damage to the gate.
High speed precision holesaws and Skip-tooth taps load together for time saving and accuracy.
Specially designed ALH taps ensure a high quality thread pattern.
Stops on the tap head automatically ensures a perfect taper thread is cut without measurement, ensuring a leak free final seal when the plug is installed.
Although power equipment is available for drilling, tapping loads are still low enough to manually cut 2½" taper threads.
A magnetic coupon retention system is standard eliminating dropping the coupon.
ALH System-One Control Valve
The key to a successful mains entry operation is to ensure that the entry tap is true and accurate. The System-One Drill Head locates into a machined cavity on the upper surface of the ALH Control Valve. The valve is positioned precisely on the main with individual polymer faced aluminum saddles for each main diameter. The result is a rock-steady drilling platform. This precision fit allows easy reassembly of the equipment over fitting for removal or replacement.
The System-One Control Valve acts as a lightweight, stable platform for all other System-One components. Opening and closing the valve gate during the operation of the system ensures control of the gas at all times.
Each additional system component secures onto the valve platform to allow a different maintenance operation.
The valve throat is large enough to insert a variety of tees.
Low profile construction ensures accuracy in tapping and precise positioning for the most sophisticated maintenance operations.
Fits all sizes of cast iron and steel mains up to 48″.
Gas-Free* bagging off on all ferrous mains and PE (entry under development)
New applications are continuously being added.
ALH System-One Drills & Taps
System-One offers the first real advance in 50 years of drill and tapping cast iron and steel. The system combines specially designed high speed Machine Steel Taps with a range of Fine Tolerance Holesaws on a single cutting shaft, that does not require a pilot drill. The combination ensures the minimum amount of metal is cut and the speed of the cut is increased dramatically without compromising accuracy.
Hand tapping in cast iron always produces a significantly better thread form, but often results in excessive tapping loads. To solve this, the System-One has specially engineered the larger taps with a Skip-tooth design that reduces the load by half yet is capable of producing an extremely high-quality thread form by hand.
Cheater bars are never required, even when cutting a 2½" taper with a course 8 threads per inch.
Taps are loaded onto the drill shaft behind the hole saw cutter so changeover time is eliminated.
The result is a completed 2½" drill and tap in cast iron in seven minutes or less.
HOLESAWS
Holesaws cut cast iron and steel at high speed through to 2½" diameter.
High level of accuracy while inexpensive to replace.
Designed for hand or powered operations.
Magnetic coupon retention system.
TAPS
No power is required for taps on cast iron or steel to 2½" diameter.
Skip-tooth design eliminates unreasonable tapping force on larger sizes.
Tap depth sets automatically.
Tap follows Holesaw in a single operation.
ALH System-One Cutter for Steel Mains
Extremely durable HSS shell cutter designed specifically for cutting steel mains.
No pilot drill required. Less effort and faster than other style cutters. Unique design produces chips, not swarf ribbons. Cut and tap in one continuous operation. Attaches easily to the ALH System-One with one nut. It can be re-sharpened. Always use Kool-Mist as a heat sink.
System-One Fitting Canopy
The System-One Fitting Canopy provides a Universal method of inserting a wide range of mains connectors & pipe fittings into cast iron and steel mains at any pressure up to 60 psi.
The Canopy is a universal method of insertion and removal of fittings and plugs while maintaining strict control of the gas at all times.
Threaded fittings are placed directly into the main and do not require a full encirclement fitting or any form of a saddle.
Up to 2 1/2″ diameter fittings can be inserted using the System-One. This provides virtually the equivalent to a 3″ branch main connection.
Connections can be made to any diameter cast iron and steel mains.
ALH System-One Tee Insertion
Insertion or removal of up to 2″ tees on mains up to 60 PSIG under Gas-Free conditions.
Tee Insertion and Completion Plug Removal tooling shown
A full range of tees from 3/4″ to 2″ can be inserted or removed.
System-One Tee insertion tooling is currently in daily use at many gas distribution companies.
Tee Insertion Operation