Prevent pipe overload when directional drilling, plowing or winching.
Homemade weak links are only a guess!
Breakaway Connector with built-in swivel.
What are Breakaways?
Breakaway Connectors are tested designed to protect polyethylene pipe and duct from overload during installation by directional drilling or other methods.
Connect between the pullback swivel and the pipe puller. The connectors are a three-part product, held together by a group of pins. The pins are designed to break in tension at a specific load.
The connector assembly is fastened together by using one or more of the breakaway pins. For example, if the operator uses a single 1,000 lbs. pin, the connector will come apart at 1,000 pounds. Different pin values can be mixed and matched to create several different breakaway values.
Built-in swivel.

Break Pins
Many utilities now require the use of a breakaway connector to maintain the pipe integrity during installation.
The same connector can work on a range of pipe sizes, each requiring different load settings. The table below shows typical Allowable Tensile Loads given the pipe size and specified breakpoints.  There are four Breakaways to choose from. Typically, the small ones are used for services and the larger ones for mains.
Typical Break Values for PE Gas Pipe
Shows combination of Pipe Puller, Breakaway Connector,  Break Pins. Shackle and Swivel
There are four types of Breakaways for 1/2″-16″ PE pipe
#1. Small Breakaway for 1/2"-2" service pipe.
Built-in swivel.

#2. Medium Breakaway for 2" Large Services and Mains
Built-in swivel.
#3. Large Breakaway for 3"-6" and Mains
#4. X-Large Breakaway for 8" and Greater Mains
Requires swivel.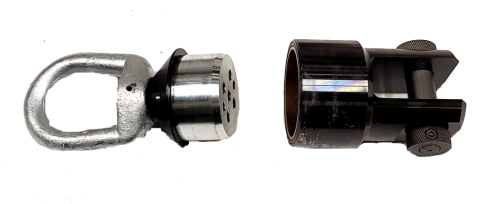 Breakaway Connector Load Test
Pipe Puller Kits Available
Custom Foam and Cases