Portable Grit Blaster: PLCS recommends Clemco Model 1042, 1 Cu. ft. Classic Blast Machine System or similar for any Encapsulation leak sealing campaign. See section Grit Blasting for PLCS Encapsulation for details or call PLCS.
Portable Grit Blaster
Air Drill: High torque low speed (500-600 rpm) 1/2″ Air Drill with a planetary gearing system used with a Jiffy Mixer required to properly mix the PLCS Encapsulation sealant. Common air drills with a single gear drive run at 2000 – 3000 rpm free air speed. These will not have enough power to mix the sealant, especially in cold weather.
1/2" Air Drill Part # 49-A3025
Jiffy Mixer: Used with the 1/2″ Air Drill (49-A3025) is a heavy-duty, extremely efficient stainless steel mixer designed to quickly and thoroughly mix PLCS Encapsulation sealant.

The mixer has two sets of specially welded blades. The vertical blades keep the mixing action between them. The horizontal blades move the sealant from the upper and lower areas of the container into the mixer head eliminating unwanted aeration. The leading edge of the lower horizontal blade will scrape the bottom of the mixing container to bring all settled material particles into the mixing head. All result in a thoroughly mixed Encapsulation sealant.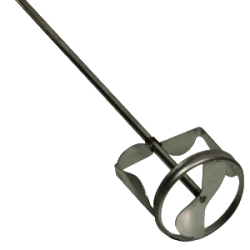 Small Jiffy Mixer (for up to 5 liter mix) Part # 10-542
Medium Jiffy Mixer (5 liter mix & larger) Part # 10-544
Tie Tool: Hand tool used to tighten and to apply the correct torque to the nylon bands included in 3″ – 8″ PLCS Low-Pressure Bell Joint Encapsulation Kits. The tool provides a mechanical advantage to secure the nylon ties by squeezing the handles. The heavy-duty tool is made from steel with padded foam grip handles to provide comfort and a built-in cutter to cut off the excess.
Tie Tool (for nylon bands) Part # 10-541
Band-It Tool: Hand tool used to tighten and to apply the correct torque to the steel bands included in PLCS Encapsulation Kits. The robust dropped forged tool has a corrosion-resistant blue epoxy coated finish with a built-in cutter and spring-loaded gripper lever for easy operation.
Band-It Tool (for steel bands) Part # 10-540