Low-pressure inflatable gas bags are designed to block the gas flow or fumes during pipeline repair. Used worldwide for over 30 years for flow-stopping 2″-48″ cast, ductile, steel, and PE gas mains.
PLCS Gas Bags are made to the highest quality standards while providing the operator with a gas bag that offers superior sealing and easy removal. Many of our customers who have been using other competitor's gas bags for years have switched to ours due to the ease of use, quality of attached fittings and gauges, excellent gas bag construction, and heightened customer service. 
Two styles available:
Flowstop – Stops gas flow only.
Sensor – Stops gas flow and continuously monitors upstream pressure. Saves the additional tap hole for a gauge. 
Flowstop Bag with Rigid Brass Tube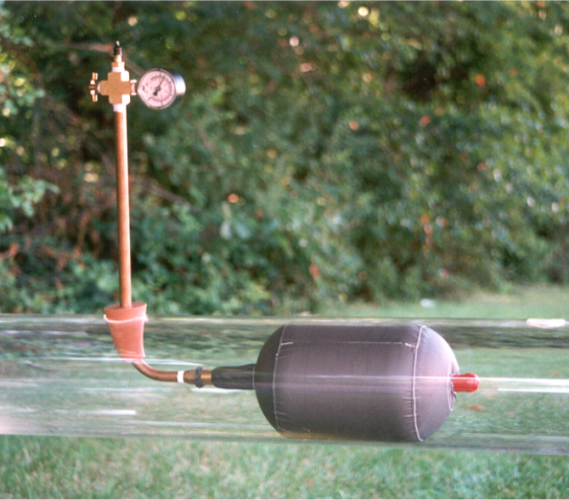 Flowstop Bag with Rubber Flexible Tube
Suggested Gas Bag Entry Hole Size and Pressures
Always follow the company procedures.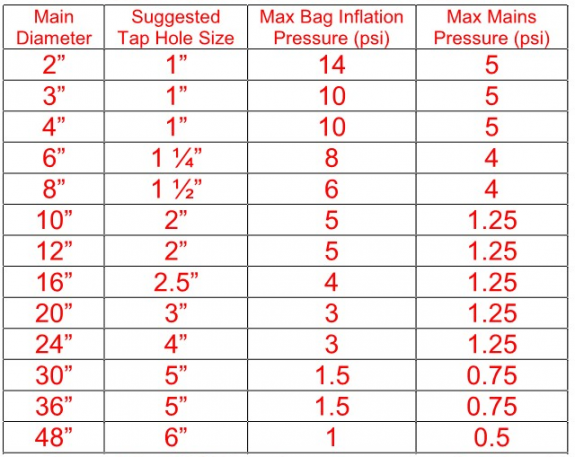 Designed with the bladder with excellent durability, tensile strength, tear-resistance, and resilience held inside a thin yet durable outer synthetic fabric. This thin wall construction permits mains entry through a smaller tap hole than other competitive brands.
2" through 12" Flowstop Bags rated up to 1.25 PSI, where others rated up to 1 PSI – enhances safety.
Barrel-shaped to increase the load on the pipe wall to retain position and increase the surface seal area to minimize gas bypass.
Each bag assembly is pressure tested before shipping.
PLCS carries the most common sizes in stock ready for immediate shipping.
Bags are clamped to a semi-rigid inflation core to control entry direction and prevent a reversal in the main.
Double-end retention prevents bag loss during a sudden deflation.
Standard sizes are available for all cast iron and steel mains from 2″ – 48″.
Special sizes are available for PE plastic pipe.
Available with rigid inflation control tee and rubber entry stopper, or with flexible hose.
In an "open-hole" Double Block and Bleed shutdown, PLCS Flowstop Bags are recommended for use in pairs at each end of the shutdown. It is also possible to substitute one PLCS Flowstop Bag with a PLCS Sensor Bag at each end and be able to continuously record the upstream and downstream pressure during the shutdown. PLCS Gas Bags can also be used in conjunction with ALH System-One tapping equipment to perform Control-Gas shutdowns.
Flowstop Bag Only
Sensor Bag Only
Flowstop Rigid Tube
Flowstop Flexible Tube
Sensor Rigid Tube
Sensor Flexible Tube
Low Pressure Gauge for Sensor Bag (Sold Separately)
Gas Bag Tag - Front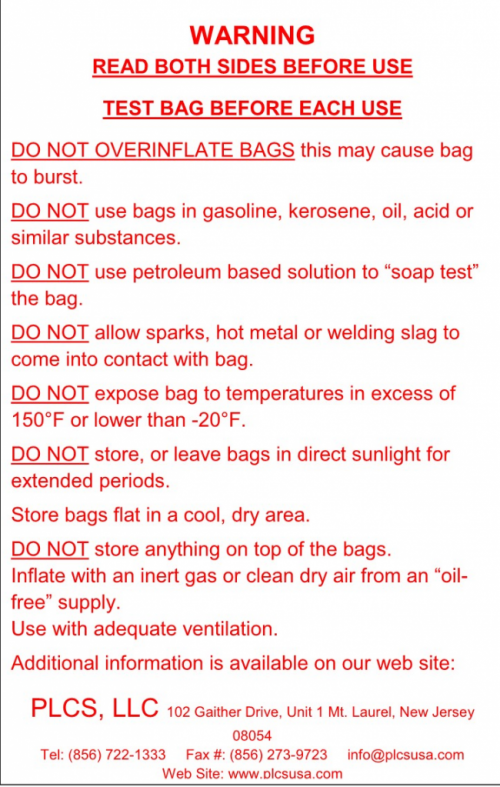 Gas Bag Tag - Back
Replacement Parts