A compact, lightweight system designed for short-duration maintenance and repair jobs. Provides a non-interrupted supply of natural gas to the building during fitting or meter change-out procedures. Eliminating customer shut down and relights.
Benefits
Enhances customer service by saving the cost and liability of relights.
Compatible for use with various bypass methods. However, must have access to a serviceable tee or threaded connection on or near the meter bar.
The customer stays on while work is complete.
Easy to use, little training needed.
The advanced regulator system incorporates an integral pressure relief valve for added safety.  
Carrying box designed for use with accessory folding cart for easy transport to the meter.
Tubular steel construction for lightweight and high strength.
System designed to protect all gauges and other components from damage while remaining visible to the operator.
Powder-coated OSHA Safety Orange for high visibility. 
Uses DOT 3AL Category 3 aluminum liner cylinders.
The collapsible dolly enhances the system by providing a means for easy and  safe transportation of all tools, parts, and even a meter from vehicle to the field.  
3 By-Pass Models Available
# 50-BK-22
27 cuft. 
51 lbs
9 3/8" L X 10 5/8" W x 21 ½" H
1-2 hours of gas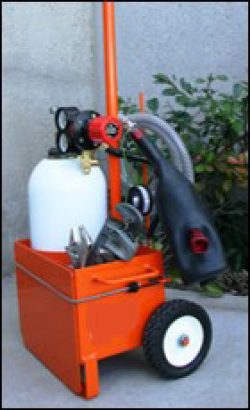 # 50-BK-33-01
 58lbs
11" L X 16" W x 45" H
2-4 hours of gas
# 50-HTK01
187 cuft. 
85 lbs.
8 hours of gas
Handles multiple meter sets using an optional manifold attachment.
Must have a serviceable tee to connect the equipment.
3 bag sizes for serviceable tees.
3/4" and 1"
1-1/4"
1-1/2" and 2"
Bags get a handful of uses, inexpensive to replace.
Probes insert into pipe within the bag.
The adapter kit connects to the hose. Used when by-passing through fittings on meter bar (i.e Mueller, Jomar) Adaptable for 2psi systems.