A hydraulic-powered machine cuts steel, cast iron, ductile iron, asbestos, cement, and plastic pipe.
Lightweight field durable design for easy setup and operation.
Self-propelled circumferential cutting.
Cuts 12″ cast iron pipe in about 8 minutes.
Only 10″ of clearance around the pipe is needed.
N450 Model
Cuts 8″-30″ Pipe
Typical Cutting Speed: 5 1/2″ per minute
N600Model
Cuts 8″-60″ Pipe
Typical Cutting Speed: 5 1/2″ per minute
The Keel Cutter comes complete with:

Cutting Unit
Fastening Chains and Drive Belts
Safety Wrench and Handle
Water Coolant Tank
Steel Wedges
Steel Tool Box
Blades sold separately
Weighing only 44 lbs. (N450), the lightweight cutter with field durable cast aluminum design is easy to set up and operate. It fits onto the pipe using a set of wheeled chains and drive belts, needing only 10" of clearance around the pipe. A gas-powered hydraulic power pack with a hydraulic pump delivering 5 gallons per minute 2000 psi sold separately is required to power the cutter around the pipe. Typical cutting speed is about 5" per minute. It can cut 12" cast iron pipe in about 8 minutes. The average blade life is around 20 cuts on 20" Cast Iron or 10 cuts on 20" steel depending on pipe condition. A plug-in water coolant tank mists water directly onto the blade during operation to prolong blade service life.
Gas-powered hydraulic unit required to operate Keel Cutter.
18hp Powerpack
Engine: Briggs & Stratton, 18 hp V-Twin, air-cooled, electric start
Capacity: One 5 gpm circuit or one 8 gpm circuit
Length: 36 in.
Width: 23 in.
Height: 29.5 in.
Weight: (Wet) Single Circuit Briggs 330 lbs.
Fuel tank capacity: 6 gallons
Estimated gas consumption per hour: 1.3 gallons
Hydraulic reservoir capacity: 3 gallons
Blades
Diamond tipped blades designed for cutting cast and ductile iron.
Tungsten carbide tipped blades cut steel.
PE cutting blades available.
Diamond Blade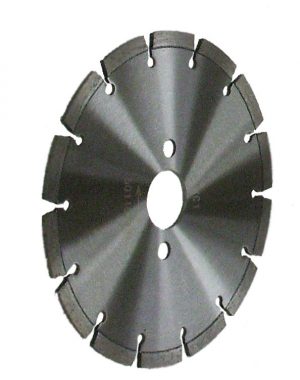 Tungsten Carbide Tip Blade for Steel
N450
N600