A patented gas-free tool to abandon leaking PE (Polyethylene) Mechanical Tapping Service Tees operating at a maximum of 60 psi on 1-1/4"-6" main without squeeze off procedures.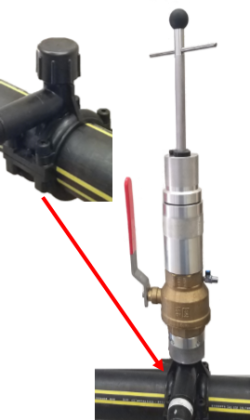 Problem
Many mechanical PE tees have been installed throughout the country. However, in recent years, some are leaking and problematic.
The current method to remedy the tee repair involves isolating the tee by employing squeeze off procedures. However, squeeze-off procedures also create a few concerns.
The existing PE pipe may be at risk of stress cracking at the squeeze points, decreasing pipeline integrity over the long term. This leads to fixing one problem but causing another.
Multiple or large excavations may be required, results in higher reinstatement costs.
The squeeze-off may not completely stop the gas, creating a dangerous work environment for workers.
Mechanical PE Tee Abandonment Tool
Removes tee safely and Gas-Free without squeeze-offs.
Sturdy lightweight construction.
Fast and easy to install.
Minimal training.
Includes a safety clamp to ensure the tee is held securely on the main during operation.
Operates using a tool-less assembly
Stops the gas using a special plug.