A convenient portable case with all air test fittings in one place for plastic and metal pipe. Workers no longer need to worry about having the wrong cap to pressure test, ultimately saving project downtime!
The kit includes various cap sizes from major PE manufacturers and 3/4"-2" NPT malleable test cap attachments for the metallic pipe.
Customized to Fit:
George Fisher (Central Plastics)
MT Deason
Honeywell/Elster Perfection
Kerotest
Friatech
Other manufacturer's upon request.
The quick-connect fitting installation along with the easy portable storage solution make any pressure test job a little easier.
Quick Connect Inflation Tree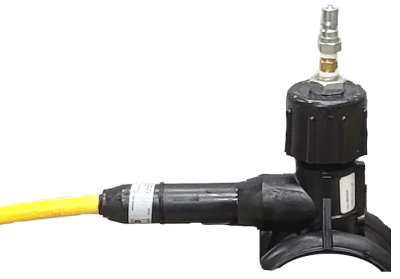 PE Test Cap
Metallic Pipe Test Cap
Liquid Filled Gauge with Pete's Plug Probe
Probe Adapter and Sleeve Protector
Needle probe inserts into the Pete's Plug tiny gland-type valve.
Pete's Plug
Quickly take a pressure reading. It has a self-closing Neoprene valve after the probe removal. The brass plug is a ¼" NPT pipe connection.