Absolutely the fastest tool for extracting gas out of the ground when pinpointing a gas leak or removing residual gas after a repair.
Operation:
Drop it in a bar hole near the main and connect it to your compressed air supply. The powerful Venturi vacuum quickly pulls gas towards it and vents to the atmosphere.
Benefits:
Every first responder should have one!
Fast and Simple
Lightweight with No Moving Parts
Inexpensive and Compact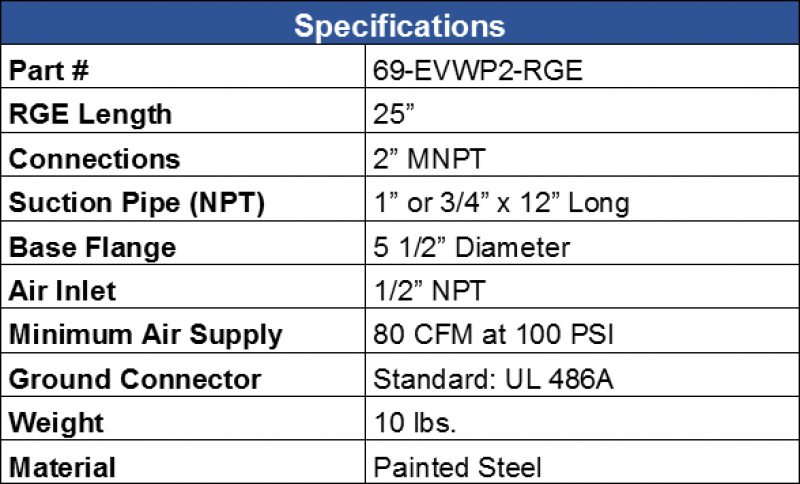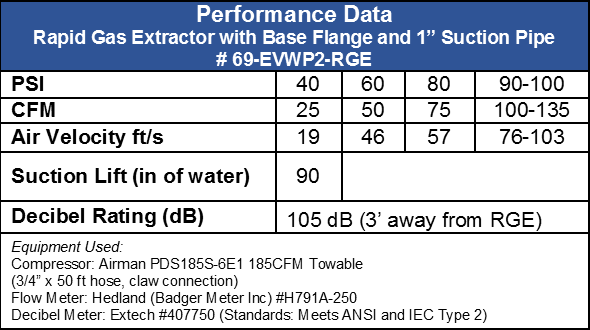 Why does it work so well?
The RGE venturi tube vacuum design uses the right balance between airflow and suction to provide higher performance over other air movers. An air mover may have exceptional air volume flow, but low suction will not get the job done quickly. Unfortunately, this is a characteristic of many general-purpose air movers.
The RGE rapidly evacuates residual gas because of its strong airflow consumption at a maximum of 135 CFM and a high air velocity of 103 ft/s, creating 90 inches of water suction lift.
The RGE can also be used as a PLCS Venturi Water Pump by removing the RGE Base Flange then attach the Strainer and Discharge Hose.